| | |
| --- | --- |
| An Old Fashioned Downtown Celebration! | |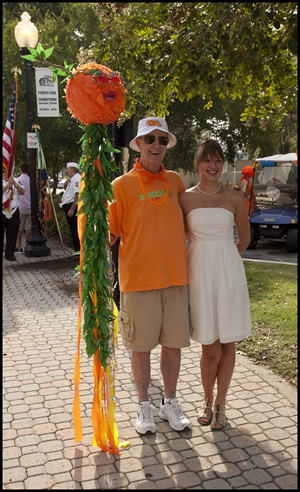 Celebrate a part of Dunedin's History at the 4th Annual Dunedin Orange Festival in Edgewater Waterfront Park Next to the Dunedin Marina
Saturday July 6th from10am to 10pm
Entertainment on the stage all day:
Music By:
11:30-12:00 Highland Dancers With Pipes
12:00-2:30 Mixed Local Singers Including:
Theresa Rocque, GregThorensen, Ken Schell, Kendahl Maxwell, Dave Smith (#1 Johhny Cash Impersonator in the world)
2:30-4:00 Jack & Josie & Friends
4:00-5:30 Time Bandits
5:30-7:30 6 Volt Rodeo
7:30-9:30 Julie Black Band
Silent Auction Hats from 25-30 local merchants

8:30 am - 12:30 pm Green Market Pioneer Park
10:00 – 4:00 Activities in Park and fun zone
* Activities for Kids
Honeymoon Island's Nature Center Canopy
Dunedin Library Canopy - Learn and look at books regarding Dunedin's History and the Citrus industry
Dunedin's Historical Museum display on the Citrus Industry and its History to Dunedin
Dunedin Orange Bonnet Silent Auction- bid on your favorite "Bonnet" designed, and made by Downtown Merchants, 50 -60 participating merchants – proceeds to benefit the Dunedin Historical Museum
11:30 pm Mojo cook off to start, sample great Mojo Pork dishes and vote on your favorite dish $10 donation

4pm - 10pm Orange Fest After Dark Come and enjoy live music in the park with local vendors. Bring your blanket for sunset and dance the night away. NOTE: No alcohol will be served at the event prior to 4pm.
Come join us for a fabulous tasting!
The Dunedin Orange Festival
Mojo Cook Off
11:30 to 2:30 pm
Mojo contestants:

Defending the Title: Sea Sea Riders
Our 2013 Mojo Contestants!
Flanagans
Kelly's
SeaSea Riders
Serendipity Cafe
The Livingroom
Smokehouse
Margueritte's
Broadway Deli
Taste Tickets available ($10 each)

The People (tasters) will vote....Winners to be announced at 3pm
3:00 pm Announce winner of the Mojo cook off